A LOOK AT THE FUTURE OF IDENTITY AND ACCESS MANAGEMENT
Almost every company or organisation uses identity and access management (IAM), but granting access to data within a system is not always straightforward. As the workforce in an organisation expands, as people change jobs, or as they get promoted and therefore gain new permissions, access options are constantly evolving. Thus, the overview is quickly lost. For 15 years, IS4U has been helping its clients put their digital access management in order with the appropriate IAM software. In this article, the founder and managing partners look back on the path travelled, but also look ahead: "In the future, IAM's focus will be on technology independence, seamless connection of systems and gathering, managing and protecting the right data."
IS4U, part of The Cronos Group, started out as a business unit specialising in IAM competence centre. Based on customers' questions and needs, the best product was always recommended from a vendor-independent approach. Over the years, several subsidiaries were established and the company evolved into a broadly oriented specialist in cybersecurity. IdentIT, Nynox, Actwise and Orlox, together with IS4U, form a specialised base to expertly help various customers with various problems.
Founder Robin Gorris says: "It is essential to listen first and then choose the right technology, rather than the other way around. With the wide spread in specialisations we have built up, we can offer our customers a full service instead of merely providing a stand-alone IAM solution. You can see that it works. When we started it was just the three of us, now we have grown to a team of 75 specialists."
TEAM STORY
For Robin, this success is a team story. "We offer opportunities and freedom. Attracting and retaining talent is essential for us." Wouter Decruy, who started as an intern at IS4U 13 years ago, can relate to that. As IS4U's IBM team that he was part of continued to grow, Wouter had the opportunity to become a coordinator and eventually move up to management.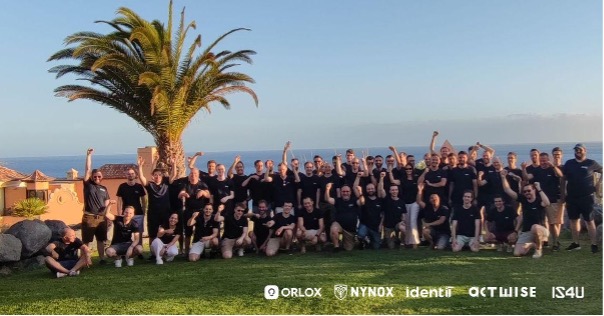 There, together with Christophe Vereycken and Robin Gorris, he now heads the organisation. And he is not the only one: Jonathan Gheysens, managing partner at subsidiary IdentIT, went through a similar process as well. His team became an independent company just before the pandemic hit in February 2020. In less than three years, he saw his Customer Identity and Access Management (CIAM) team double in size.
A NEW GENERATION OF IT PROFESSIONALS
"Investing in our employees is a must," says Jonathan (IdentIT). "Just as IS4U has done for me, we as a company are trying to invest in the new generation of IT professionals." One example of this is the IS4U masterclass, which lays the foundation for the cybersecurity specialists of tomorrow.
"Where it used to take several months for someone to be up and running, we now try to achieve that in a master class. Course participants spend over a month working intensively on the subject, and it is paying off. For new, emerging niches within the sector, there are no training courses specific to our profession. Prior knowledge and computer skills are, of course, a must, but with this course we offer people the chance of making a flying start. This applies, for example, for school-leavers with a background in IT or people who want to make a career switch to another niche in IT. That is why we set up this master class ourselves," adds Christophe Vereycken.
In addition to the technical skills, working in a team also plays a major role. Pleasure at work and a team spirit are essential in this respect. An example of this is the workation to Tenerife that the company organised in honour of its fifteenth anniversary. "The atmosphere in the workplace does not always have to be serious, and we regularly organise activities such as gaming nights, unconferences, football and a weekly game of padel," Christophe lists.
HOPES FOR THE FUTURE
IS4U doesn't like the fact that some companies are stuck in their technology offerings. "An IT company should be an incubator for new technologies. We therefore conduct an annual market evaluation to see if and where our portfolio can be expanded," says Wouter Decruy. "This also allows us to remain technology independent, as we are certainly convinced that the future does not lie in one technology, but rather in the combination of multiple platforms," he continues. In the coming years, IS4U and its subsidiaries will continue to focus on end-to-end security: unburdening customers in all aspects of security and access management. This means a wider range of services, a broadening of expertise and a seamless fit with existing security systems. "Where we now mainly offer IAM solutions, we want to tackle security in the broader sense. With Nynox, a great first step has already been taken in 2015. They are our experts in the field of security monitoring and incident response. We have the ambition to add other new initiatives to this," says Wouter.
To make better choices, you need good data, Jonathan adds: "If a customer already has a technology or wants to use a particular vendor, we will build on that. By making tools work together, we have more information. What is striking is that the era of 'ever more data' is over. The right data, that's what it's all about. Managing and protecting data correctly plays an important role in this."
Fortunately, more and more attention is being paid to the management of personal information. Jonathan continues: "That's a good thing, because it can prevent many legal problems and reputational damage in the event of a data breach, for example. Decentralisation and encryption of data are hot topics." He therefore predicts a change in mentality in this area: "Now, identities such as account information are stored centrally. In the future, this will be much more decentralised and users will regain control of their data. They will determine what data companies can access." He is also looking forward to password-free technology: "I am very curious about a world without passwords," he concludes.
Are you curious about more insights, do you fancy celebrating 15 years of IS4U with us, or would you like becoming part of our team? Send us a message, spontaneous application, or stop by. You can sign up for the next masterclass via IS4U.be/masterclass.